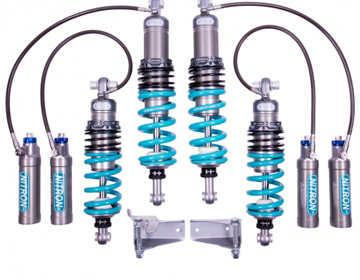 Lotus
Nitron 46mm Race Pro 3-Way
Special Order Item, ships within 2-4 weeks.
The Ultimate Nitron solution for your track-driven Lotus! These triple adjustable racing shocks offer uncompromising performance and superior precision tuning for those who demand the best suspension. The Race Pro shock is a development of the 40mm GT3 kit but built from 46mm race components. A 16mm piston rod transfers more oil to the reservoir for improved fine bump control. This is a full race shock, the larger piston providing more control over the very short shock motions found under braking and corner exit under power. This is a no-compromise shock for the serious racer who really needs the ultimate. Nitron suspensions are THE preferred kit for Lotus track day enthusiasts and successful Lotus race teams. We've run these on our Project Nirvana Elise.
Comprehensive = Everything Needed to Install
4 - 46mm triple-adjustable shocks + reservoirs

Reservoirs have 360deg revolving lines.

4 high-quality Blue Nitron or Red Eibach springs
2 Front mounting brackets
1 Nitron spring perch adjustment wrench
16 Spacers and 16 "O"-rings
Installation instructions
Ultimate Fine Tuning = Fantastic Control & Grip
High & Low speed compression adjusters on reservoirs

For specialized chassis fine tuning.
Knurled knobs for easy hand adjustment.

Rebound Adjusters on shock
Height adjustable body ideal for low race ride heights
Threaded shock body allows for proper corner balancing
Race Spring Rates but Customized Rates Available
Provided with 550 lbs Front & 700 lbs Rear
Custom Rates - contact us
Focused Engineering & High Quality = Peace of Mind
Lightweight alloy design.
Inverted design reduces unsprung weight.
Fully CNC billet machined and screwed together, no welding.
Highest quality Teflon line spherical bearings.
Proven Performance = Podium Finishes
Nitron is the leader in Lotus track & race suspension.
Nitron has won in Formula 3, the Elise Trophy & more!
Fastest Lotus Challenge Series drivers run Nitrons.
Shock Rebuilding By Sector111 = Quick Service
Nitron-trained professional rebuild
Custom re-valving
Damage repair
Model Compatibility
'05+ Elise
'06 Exige, '07+ Exige S, Cup
211
Note: We recommend you also purchase our V2Mounts with this item to safely secure remote adjustable reservoirs.
FREE SHIPPING (continental US)on all orders over $500. At checkout, use coupon code: 500
International shipping is available - please inquire.