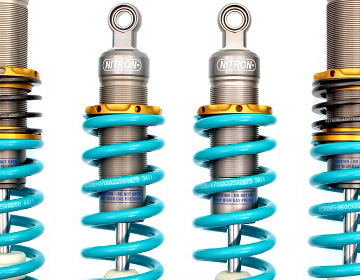 Lotus
Evora Nitron 40mm Singles - Fast Road
This is a special-order item. Please alow 2-4 weeks for delivery.
The Fast Road Solution for Your Evora! Nitron's affordable single-adjustable suspension will make your Lotus fly. The single adjuster knob controls both compression and rebound for a simple setup on and off the track. Ride height adjustability lets you set the ride height to your preferred level. This suspension can be as soft as stock and then stiffened as needed for track use - easily!
Comprehensive = Everything Needed to Install & Get on the Track
4 single-adjustable shocks
4 high-quality Nitron springs
1 spring perch adjustment wrench
16 spacers and 16 "O"-rings
Installation directions
Easy Adjustments = More Control & Grip
Adjust compression & rebound together easily by hand.

Stiffen adjustment for track use & then soften for the trip home.
24 levels of rebound & compression adjustments.

Adjust ride height for proper corner balancing.
Optimum Spring Rates
400lbs front & 500lbs rear
Focused Engineering & High Quality = Peace of Mind
Lightweight alloy design.
Inverted design reduces unsprung weight.
Fully CNC billet machined and screwed together, no welding.
Highest quality Teflon line spherical bearings.
Proven Performance = Podium Finishes
Nitron is the leader in Lotus track & race suspension.
Nitron has won in Formula 3, the Elise Trophy & more!
Shock Rebuilding By InoKinetic = Quick Service
Nitron-trained professional rebuilds
Custom re-valving
Damage repair
Model Compatibility
FREE SHIPPING (continental US)on all orders over $500. At checkout, use coupon code: 500
International shipping is available - please inquire.