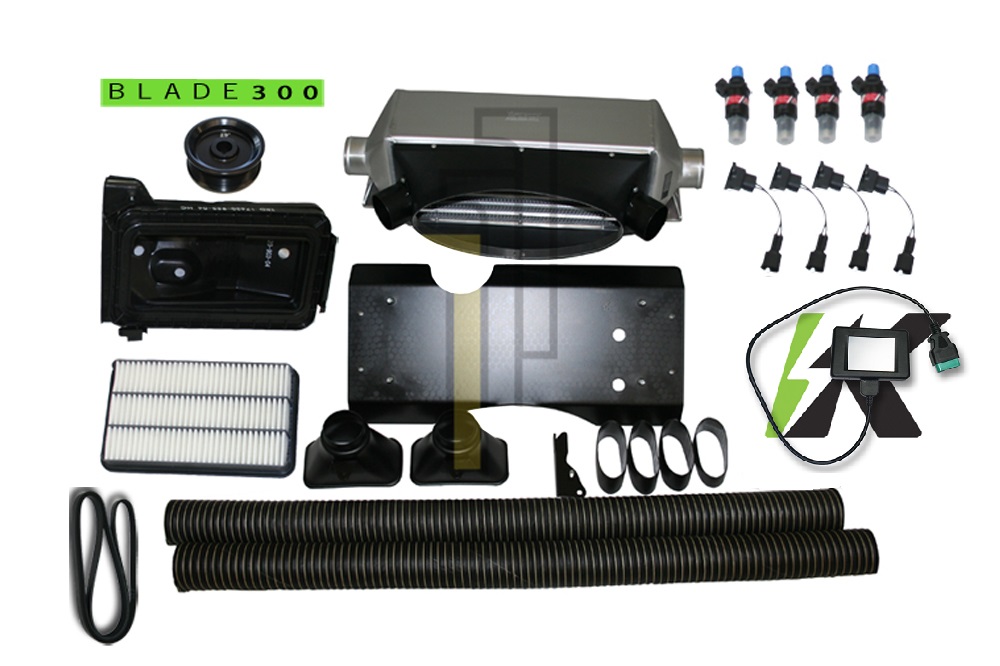 Lotus
BLADE300 Package
This is a special order item. Please allow 2-4 weeks for delivery.
More Power! AND Smoother! This Exige 'S' power package opens your throttle body "blade" to 100% and remaps other key areas in your ECU creating significant amounts of power. The BLADE300 package comes with a larger intercooler, smaller pulley, bigger injectors & a CUPair Box. We now provide our PG3 programmer tool to allow you to reflash your ECU. Inokinetic Exclusive!
More Power = Supercar Performance
~ 264 rear-wheel horsepower (300hp @ crank)

~ 167 rear-wheel lb-ft
Complete Package = Optimized Power
The following upgrades are included:

proICduct Intercooler

Side ducts

Heat shield

optional "chrome" finish (shown) is an extra $150 (call to order!)

2.9" Pulley

Drive belt

550cc Injectors

Cup Air Box

BLADE300tune flashed via PG3 Programmer

You will get a programmer that allows you to flash your ECU via the OBDII port
Properly Tuned = Civil & Usable Power
Easy to drive at low speed & part throttle.

Revs smooth up the rev range.

Retains all dash functionality.
Model Compatibility:
'07+ Exige 'S'

08+ Exige S240, S260
Hardware Requirements:
Stock exhaust header & cat

You must use the hardware that is provided (intake, pulley, IC)

Track focused cars, we recommend: Plug-N-Play Fuel Pump upgrade
Important service information*
TRACK USE ONLY

Inokinetic products may not be legal for sale or use in the state of California on any pollution-controlled motor vehicles. Performance products are legal in California only for racing vehicles, which may never be used on a public highway.

Available for the Exige S only.

The BLADE300 does not include a new ECU.
Power figures are based on DYNO testing done on our test vehicle. Results may vary depending on conditions, dyno and car. This level of power will severely reduce the lifetime of a stock transaxle - especially with track use. An uprated fuel pump is highly recommended - especially for track driven cars.
*By purchasing this product, the customer understands this product is for TRACK USE ONLY. Use of this ECU re-flash in one's car will render the car non-compliant for road use.